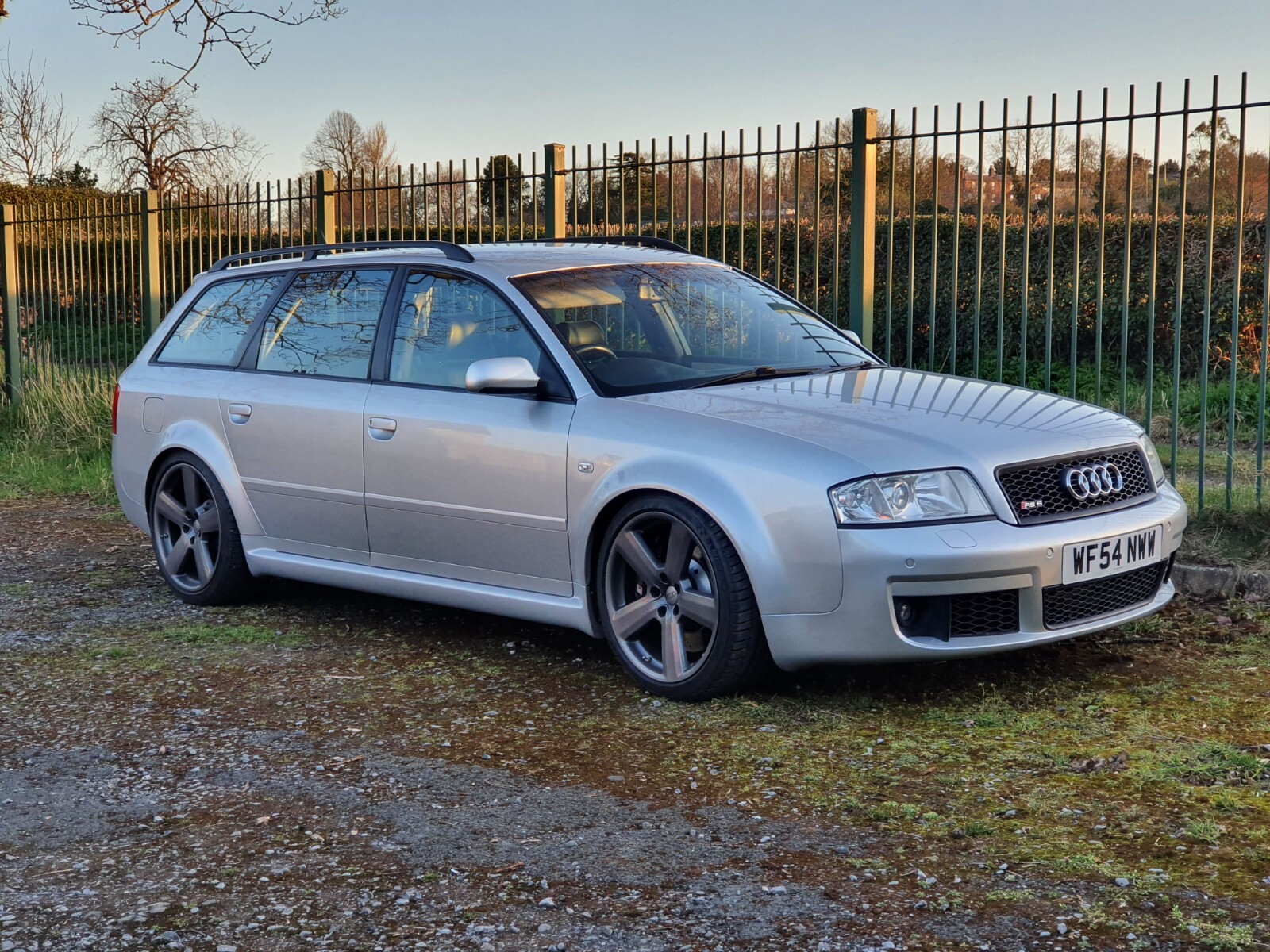 A very rare limited edition 2004 Audi RS6 Plus Avant Quattro with low mileage 61,000 (lowest mileage on the market for a long time) and full service history. In very good condition. 2 keys, 4 owners.
Number 404 of 999 worldwide. Between 70 and 100 came to the UK. This is identified by a plaque in the centre of the dashboard. 473bhp (480ps), top speed limited to 173MPH. A true modern classic with a V8 bi-turbo that sounds incredible.
Sadly due to a change at work, I need to commute a long distance to a client office most weeks, and don't have the space to keep another car. I waited a long time for the right Plus to come along and I've been informed by my Audi Specialist that this is a very rare clean example, which they would happily recommend. It's a keeper, sure to go up in value as these cars are getting rarer.
Full service history, including a very recent cambelt, very recent full engine and gearbox service, upper and lower suspension arms all round! Recent top of the range Michelin Sport tyres, recent new discs and pads all round, so drives like new. Recent full diagnostic check, the boost is spot on.
There's too much history to list. Reams of paperwork and stamped service book, original owners manuals and booklets as you would expect.
This silver RS6 Plus is standard apart from the coilovers which replaced the troublesome DRC suspension which is prone to leaking, and handles well with a comfy and not too hard ride!
It has 19" anthracite alloys refurbished 2/3 years back (not kerbed) with all the Plus black trim on the main car. Bodywork is in good condition, very few stone chips as it had a plastic protector on the front which was removed when I purchased it. No dents in the bodywork.
All the usual stuff inside including a Bose sound system, navigation / screen, 6 disc changer, Air Con, heated original RS6 electric interior in excellent condition for its age, which reflects the mileage (no tears or rips). Alcantara headlining too.
Comes with a top quality car cover with cable lock, and top of the range Thule Wing Edge roof bars, which I've only used once.
I've treated it with kid gloves and recent mileage is long distance motorway miles in the dry.
The Plus differs from the standard RS6 and was configured by Cosworth (in the UK) who Audi partnered with to create the Plus. It has 30 more BHP than the standard model, black trim, black uprated exhaust, top speed limited to 173 instead of 155 and it's lower when it comes it if the factory (there's other stuff I've forgotten I think).
There are some minor things if I'm being picky, you may wish to be aware of:
a couple of tiny scoughs to the interior back of front seats (hardly noticeable)
a couple of very minor scratches on the side skirts (you can hardly see them unless you're really looking)
a small ~1cm stone chip on the windscreen which happened recently
I've got lots more photos but i could only upload 12 here so let me know if there is something specific I've not included.
I've tried to be as honest as I can, but if you have any serious questions, please get in touch. It's a truly fantastic car to drive and gives you an adrenaline rush, so not for the faint hearted.
Link to advert and some photos here. let me know if you need any more photos.
https://www.ebay.co.uk/itm/234635775019