Guys,
I had the RNS-E upgrade installed a few weeks back ... I was very tempted to do it myself but thankfully I had a friend who is an experienced installer to do it for me otherwise I'd have scared myself with the wiring side of things. Unfortunately I got carried away with the install and didn't take to many pictures to warrant a full write up however for those brave DIY'ers then your first port of call should be
NavPlus
... this guide for an American RS6 was also a useful source of information ...
RS6 Install
So what did I get done and where did I get the parts ...
RNS-E
Supplied by installer
Adapters
Sourced from
Kufatec
You'll need one of these ...
RNS-E Adapter
Plus one of these ...
Antenna Adapter
Bluetooth
Used unit sourced from Kufatec which are no longer shown on there site.
Instead you could get one of these ...
Bluetooth
Or speak to CraigyB who has BT modules on ebay every now and again.
Here's what a BT module looks like ...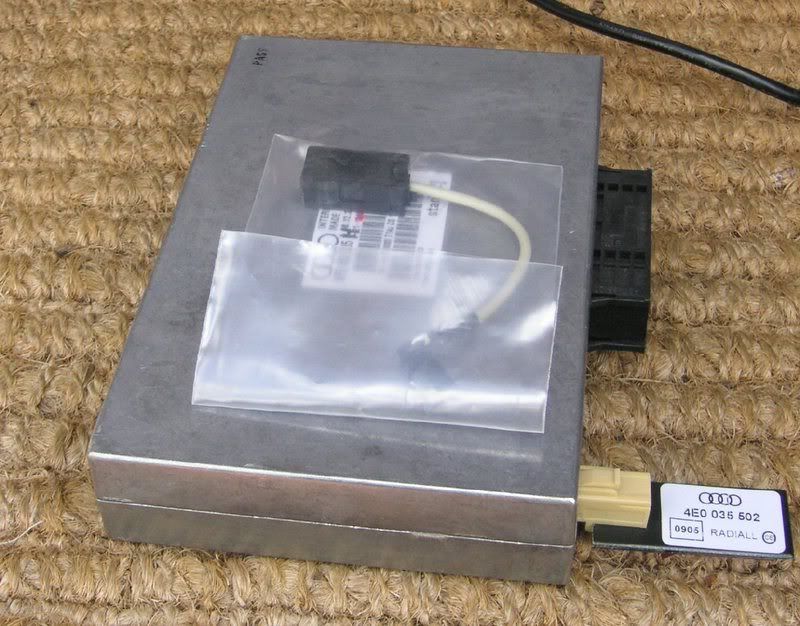 Multi-Media Player
I originally bought a Rapsody RSH-300 unit (newer chipset but same casing) with a 500 GB disc, however, the Kufatec IMA (see below) doesn't control this unit at present as it uses a different IR remote control. It works with the previous generation RSH-100 and I think the RSH-110 - I've ordered one so will find out shortly.
If you want a one stop
shop
then try
here
If you are happy to format a hard disc yourself then you'll need a
RSH-110
... plus you'll need a hard disc - for the price I fitted
500 GB
.
Alternately you could buy a
package deal
including IMA direct from Kufatec
Multi-Media Interface
I sourced my adapter module from Kufatec ...
IMA
This new design is able to control the media player via the controls on the RNS-E head unit ... although I'm not sure if it is possible to switch the Rapsody unit on or off via the head unit - I haven't figured out how to do it if that is the case.
Here's what the IMA looked like ...
So for starters here's a shot of the old and new units side-by-side ...
And here's some shots part way through the install ...
RNS-D out ...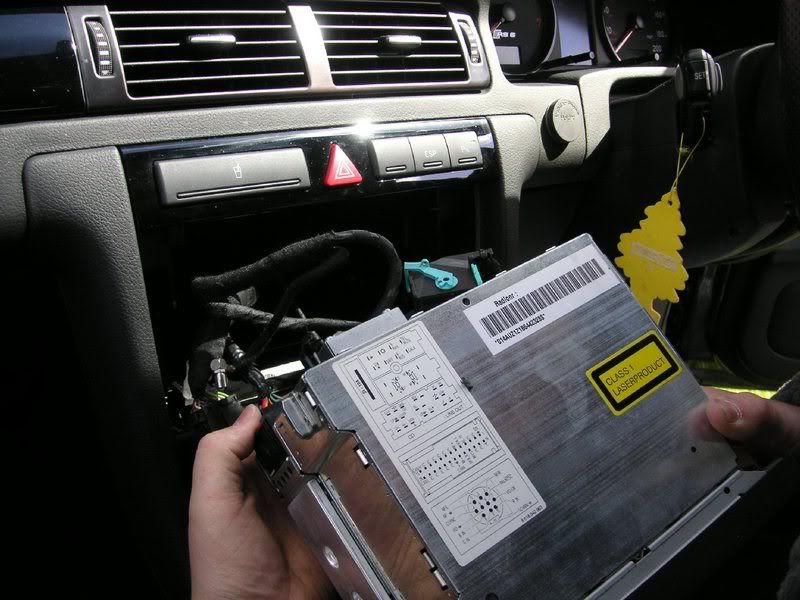 Empty Gap ...
Glovebox out ...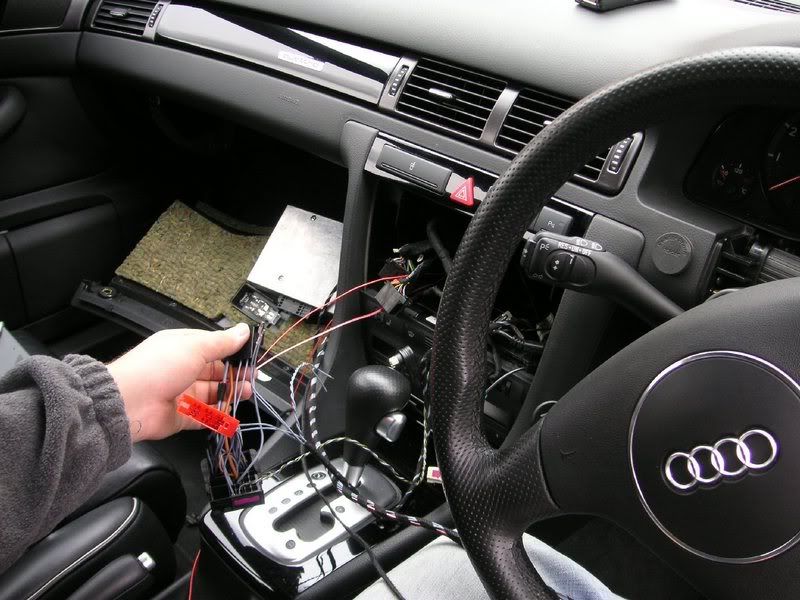 Instrument cluster out ...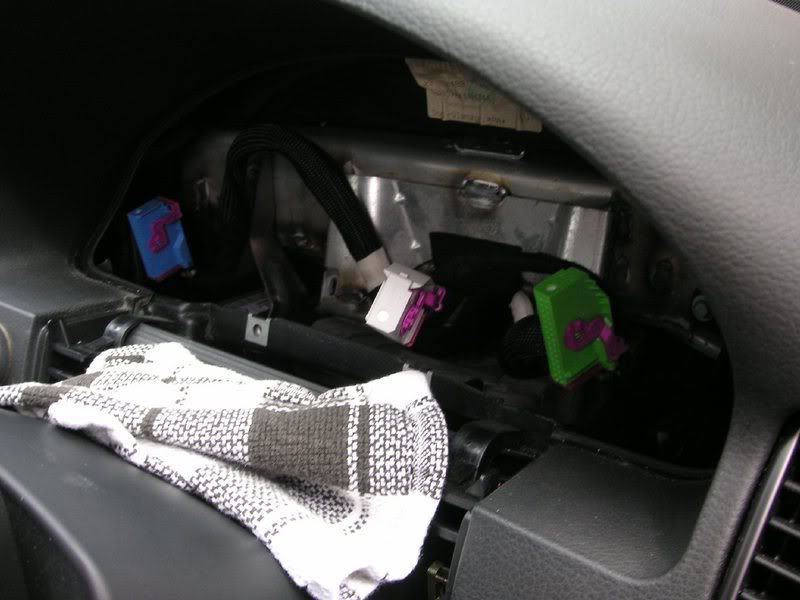 I must confess it was a bit scarey in places just given the sheer number of wires sticking out - at one point I actually wondered where all the bits came from and if they'd actually all go back together again. The RNS-E head unit install went quite well although a bit nerve racking seeing cables being spliced.
The bluetooth install was a bit of a pain when trying to run the microphone up under the window pillar trim. The glovebox need to be out to fix the bluetooth module against the bulkhead. We then had to run the microphone cable all the way up the windscreen pillar under the alacantra trim. The only problem is the trim refused to come off even with a fair amount of persuasion ... we wimped out pushing any harder for fear of snapping any retaining clips. In the end we resorted to using an old coat hanger stretched out and bent into shape and an old bit of 3 core cable I had lying about. Problem is you have to contend with the curtain air bags as well. Once the microphoe cable is up the pillar it's relatively easy to run it across to the light cluster. You'll need a new light cluster cover to get the slits for the microphone but these are only £23 from Audi.
RNS-E going in ...
And the final installed product ...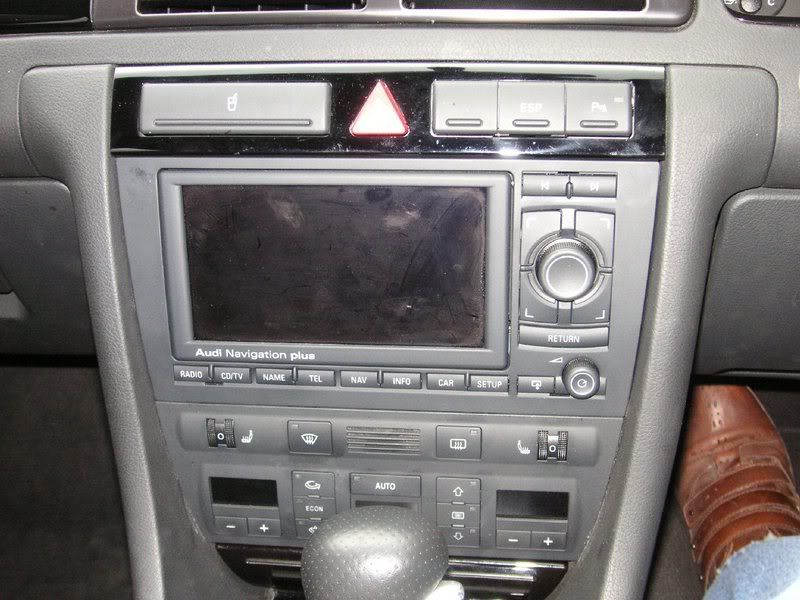 Radio screen ...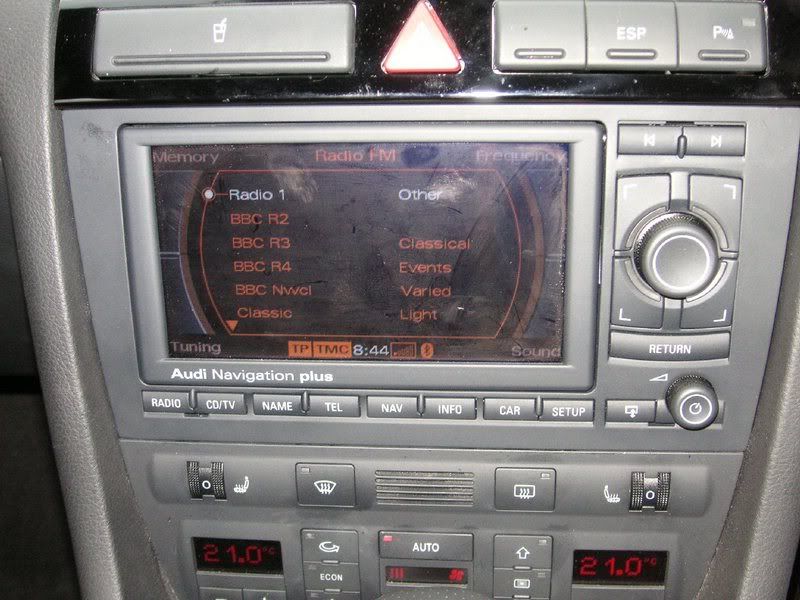 CD Screen ...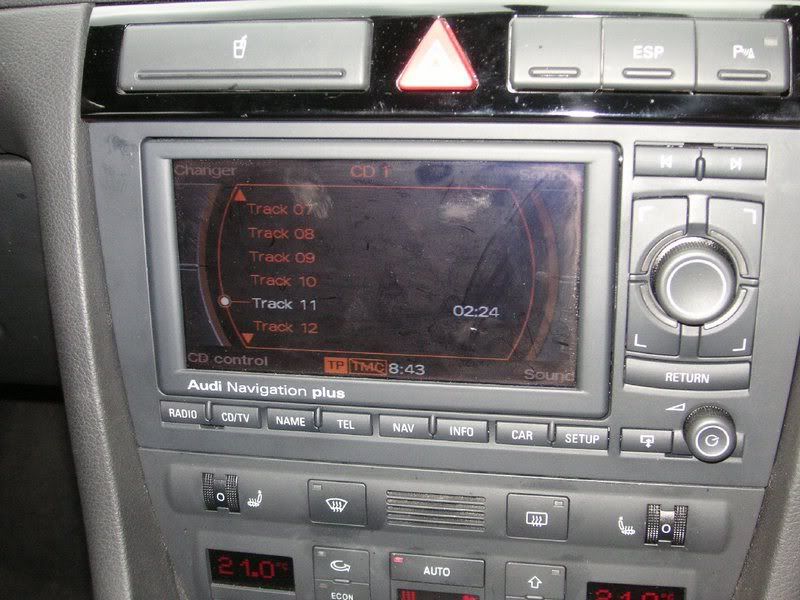 Nav Screen ...
Phone Screen ...
Media Player installed in glovebox with output shown on RNS-E screen ...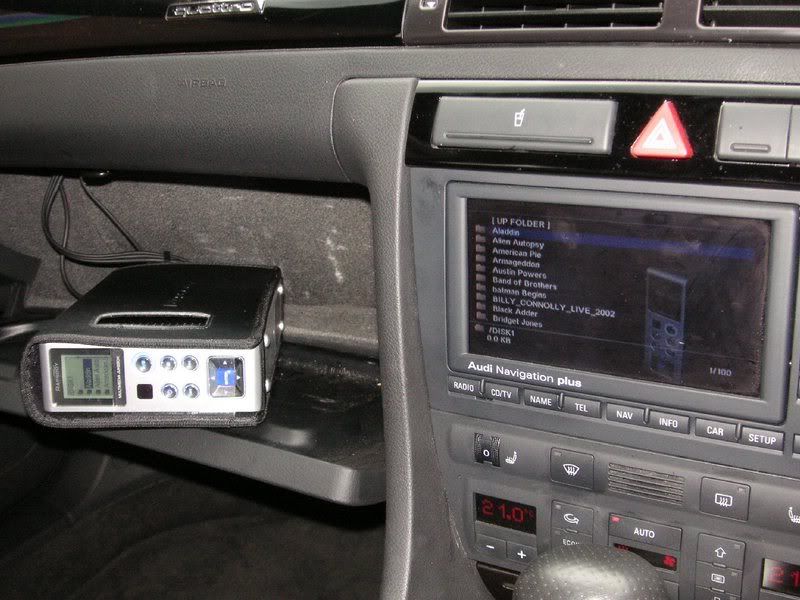 And finally a moving being played ...
... it's the start of American Pie for all you film buffs.
So after a couple of weeks driving around with the new unit installed I'm very impressed ... so much so I'm actually wondering why I didn't get it done sooner. The whole unit looks much more modern and lifts the interior quite significantly. The actual operation is slicker when changing radio stations or CD's although it's littler harder navigating around menu's mainly because of the greater number of sub-menu's / functions you can access. I quite like the fact all the controls are on the right hand side of the unit so you don't need to stretch across to change volume or change cd track. I also like that you can go to whatever menu you want via the bottom row of buttons rather than having to toggle through the TV, CD, Radio options.
I'm not sure what else to write so I'll leave it there - will try to answer any questions but I am far from an expert on the install side of things.
Thanks for reading.
Rich.